A Golden Chip is a form of free bet suitable for use on table games.
When you will be credited with Golden Chips, the pop-up will appear to notify you about it: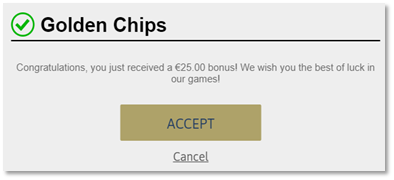 Once you will accept your Golden Chips, the selection of games available for this kind of bonus will be shown to you. You can browse through game list and pick up one of them to start playing!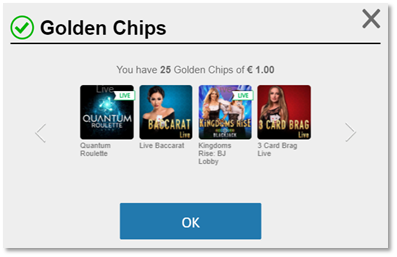 Once you will enter the game that supporting Golden Chips for the first time, you will see notification about Golden Chips available:

Click the Golden Chip to select it and place it on the table as a bet. If you win that bet, the value of the Golden Chip is deducted from the Win amount.
If you have several Golden Chips of different value, you can switch between them by clicking in the desired chip in the Golden Chip menu.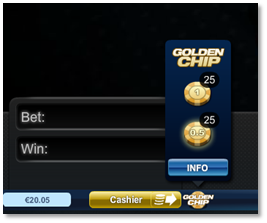 Golden Chips are only accepted as initial bets in the game. Further bets in the game round shall be deducted from your casino balance.
One Golden Chip can be used per one game round.
In card games, Golden Chip and regular chips cannot be placed together on the same bet position.